Last weekend I volunteered my time for a good cause: giving out massage treatments to cyclists who pedalled for Ride London. It was an amazing experience! We were a team of 12 massage therapists, some still training and some, like me, recently qualified, under the supervision of an experienced therapist who guided us to offer the most refreshing massage to all these lovely cyclists who had just ridden 46 or 100 miles in support of Children with Cancer UK.
The team of Children with Cancer did an amazing job of creating a space where tired cyclists could come to rest and recuperate, and streamlining the process of them getting the treatment they needed after a long, long ride. All this work was directed towards a very noble goal: funding research into the causes and treatments of childhood cancer, and providing better facilities for caring for children and their families. No wonder all of them were absolutely lovely individuals!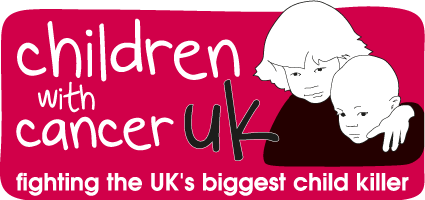 From a massage therapist's perspective, it was lovely to see these people come off their bikes tired, sometimes in pain or cramping, and go away with a smile, a new spring in their step, and a body that can function properly again. Indeed, massage does many great things to your body after such a long effort: it continues to nourish your muscles with fresh blood without the need for movement that is no longer really an option in such a tired stated, and also soothes your nervous system, thus preventing or even getting rid of cramps and spasms. This will allow the sports people in question to sleep well, and wake up well rested, rather than feeling like they've been hit by an anvil during the night.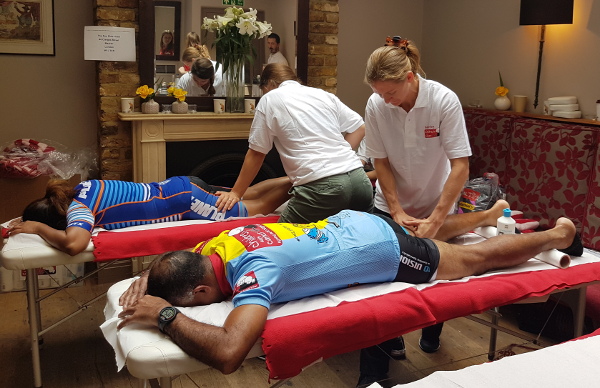 In addition to this lovely work, this was also an opportunity to meet other therapists and to share stories and experience, and as such was really enriching. It was refreshing to see training therapist practice and give their best, reminding me of the time when I had fewer tools in my belt and was spending time just refining those basics, which are and always be at the core of any massage practice.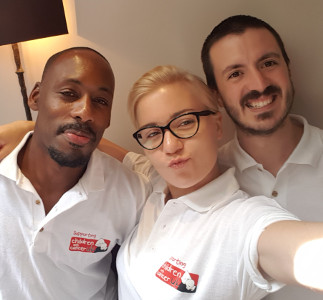 Lastly, I want to thank all my fellow therapists at this event for the good times and interesting discussions, and in particular, Steven with whom we exchanged very rich discussions, and Natalia from the massage centre in Chiswick, for supervising us brilliantly and for letting me use her pictures.
I hope you enjoyed this week's post. If you did, be sure to subscribe to the newsletter, to be the first to know when a new one gets published!